#SupportDownriver
#SupportSouthernWayneCounty
#SupportDownriver Heroes Broadcast
The Southern Wayne County Regional Chamber is excited to launch a new broadcast, #SupportDownriver Heroes, featuring the stories of Downriver entrepreneurial heroes and their impact on our region. Now more than ever, we must all unite to support our local small businesses, job providers, and regional workforce. Enjoy this new broadcast, and support our Downriver small businesses!
Click
here
to submit your interest to be featured on this broadcast!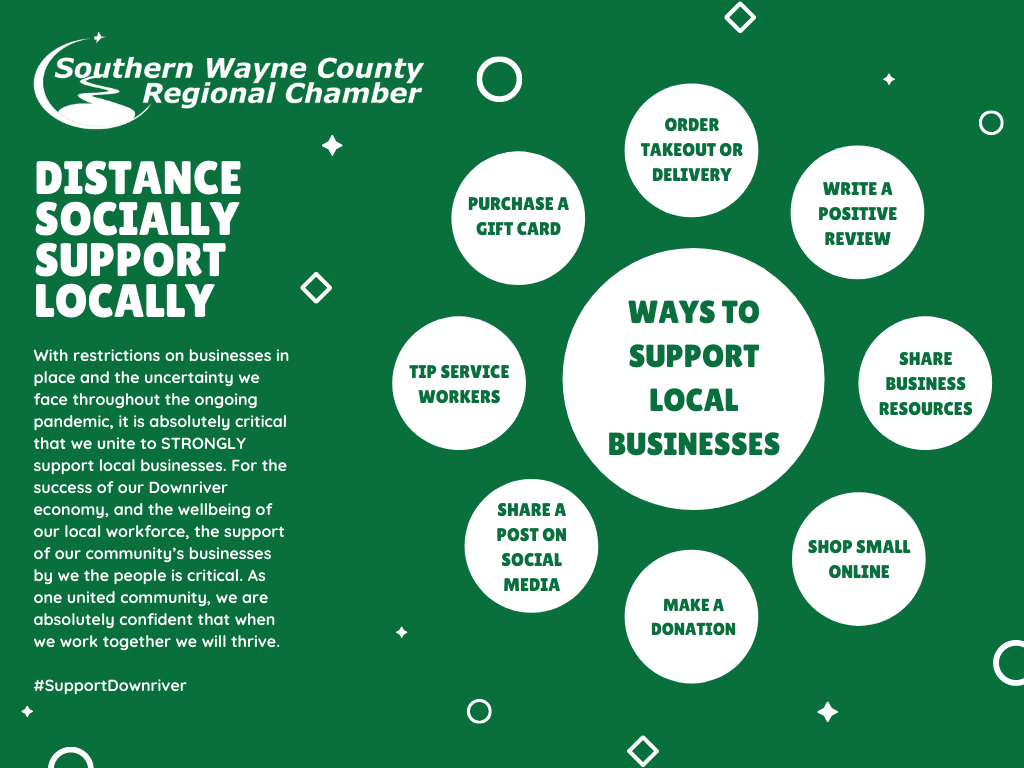 With restrictions on businesses in place, and the uncertainty we face throughout the ongoing pandemic, it is absolutely critical that we unite to STRONGLY support local businesses. For the success of our Downriver economy, and the wellbeing of our local workforce, the support of our community's businesses by we the people is critical. As one united community, we are absolutely confident that when we work together we will thrive.
On behalf of Downriver's business community, the Southern Wayne County Regional Chamber continues to urge our region to exercise wisdom and responsibility to protect our entire community, and to ensure that our local economy not only remains stable, but thrives. It is critical that our leaders continue to work closely with businesses and nonprofit organizations to understand their needs, and carry out an effective strategy to maintain economic activity in a safe and responsible manner. In 2020, local businesses and job providers were forced to close, and/or reduce services, and many continue to face restricted operations. Now more than ever, small businesses and nonprofits need our help to rebuild, and avoid additional and damaging restrictions. The most effective and impactful solution to the ongoing crisis that many of our small businesses and local job providers are facing is the responsible American consumer. It's up to every single one of us to use our hard-earned resources to invest into our local economy, while also exercising the appropriate wisdom and practices to protect yourself and others as we battle out of the ongoing pandemic. It's up to us to purchase the excellent products and reliable services that our local businesses – Downriver's job providers and entrepreneurs – can provide.
The Southern Wayne County Regional Chamber has partnered with the Downriver Community Conference to launch a campaign to support our local businesses, and to recharge our local economy in a safe, responsible, and effective way. The campaign is called #SupportDownriver, and #SupportSouthernWayneCounty. We are asking all of our communities and members to participate in this positive and encouraging messaging. Now more than ever, it is vital that we support our Downriver and southern Wayne County job providers, entrepreneurs and workforce.
We are calling on all to shop local, supporting our community and fellow Chamber members, and create posts on social media engaging and tagging local businesses. We must do what we can to support each other in effective ways.
We urge you to explore the SWCRC directory, and the below links to discover local businesses that need your support. Together, we can and we will make it through these uncertain times. And it's going to take all of us, you and I, working together to make it happen. Now's our moment. Protect our community. Shop local. And, as one united Downriver region, we will save lives, businesses and jobs – and THRIVE!
Graphics for All to Use
The campaign includes flyers and Facebook banner images that we are asking each community and business to use in this campaign. There are 2 sets, one for the #SupportDownriver campaign, and the 2nd set for the #SupportSouthernWayneCounty campaign. Communities and businesses can use either set of graphics.
Using these graphics and others, we are asking all to post on social media supporting and tagging local businesses as often as possible, and using the hashtags #SupportDownriver and #SupportSouthernWayneCounty. Messaging is critical and this is our moment to make a difference. It's our duty to come together and support the community we call "home." Our livelihood depends on it and we hope you will do your part and join us. Stay positive and stay committed to supporting our local job providers. Thank you for your tremendous leadership and partnership, and let's work together to support Downriver in a dynamic way!
Your partners in free enterprise,
President/CEO
Southern Wayne County Regional Chamber
James Perry
Executive Director
Downriver Community Conference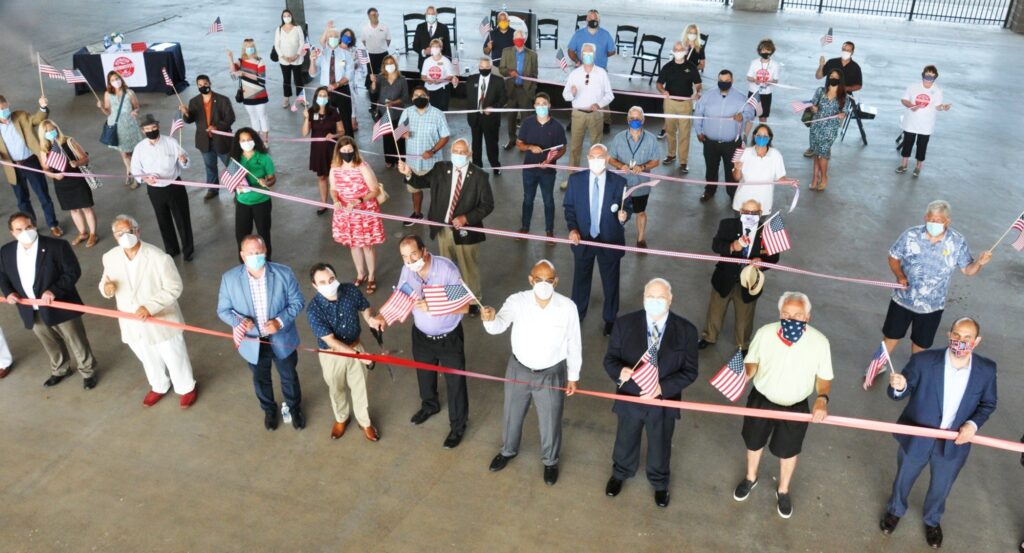 #SupportDownriver Lawn Signs
Contact SWCRC member MI Custom Signs for your #SupportDownriver lawn sign! Call ahead for availability. $9 each. MI Custom Signs will bring them out to you when they are in stock. 734.946.7446.
#SupportDownriver on WXYZ Channel 7!
SWCRC President & CEO Ron Hinrichs spoke with WXYZ Channel 7 about the #SupportDownriver campaign, and the critical mission to support local job providers and entrepreneurs as we work to reopen economic activity safely. The interview featured several of our Downriver small businesses including The Willow Tree in Wyandotte, Elliott's Bakery in Trenton, Big Bear Lodge Restaurant in Brownstown, and Bierkeller in Taylor.
#SupportDownriver on Michigan's Big Show Radio Program
SWCRC President & CEO Ron Hinrichs talks about the difference-makers of Downriver on the NBC News Network in Michigan with Michigan's Big Show starring Wyandotte native Michael Patrick Shiels.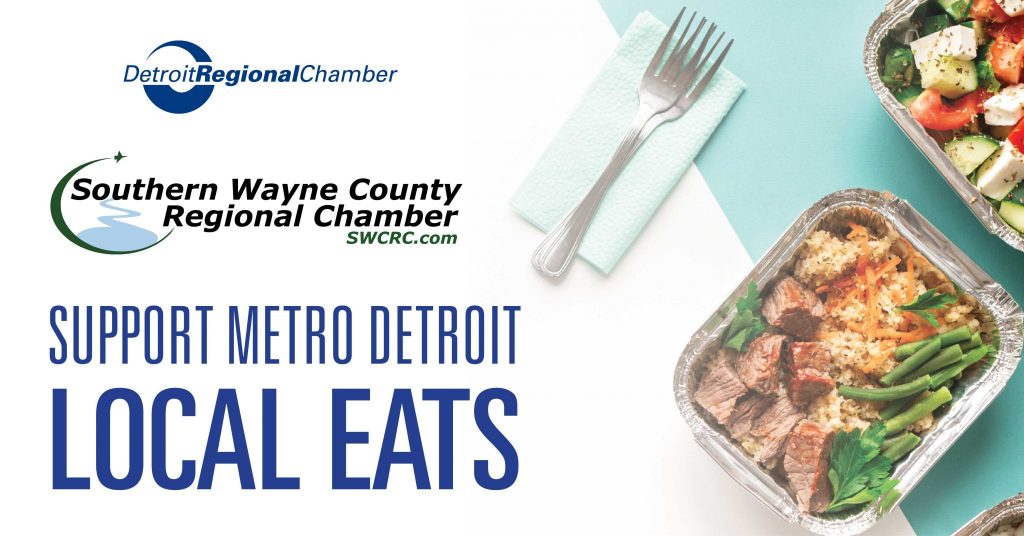 Search the Business Directory
Search
Featured Businesses