Legislative Forum Featuring Bill Ballenger of The Ballenger Report

Legislative Forum Featuring Bill Ballenger of The Ballenger Report
November 22 @ 11:00 am

-

1:00 pm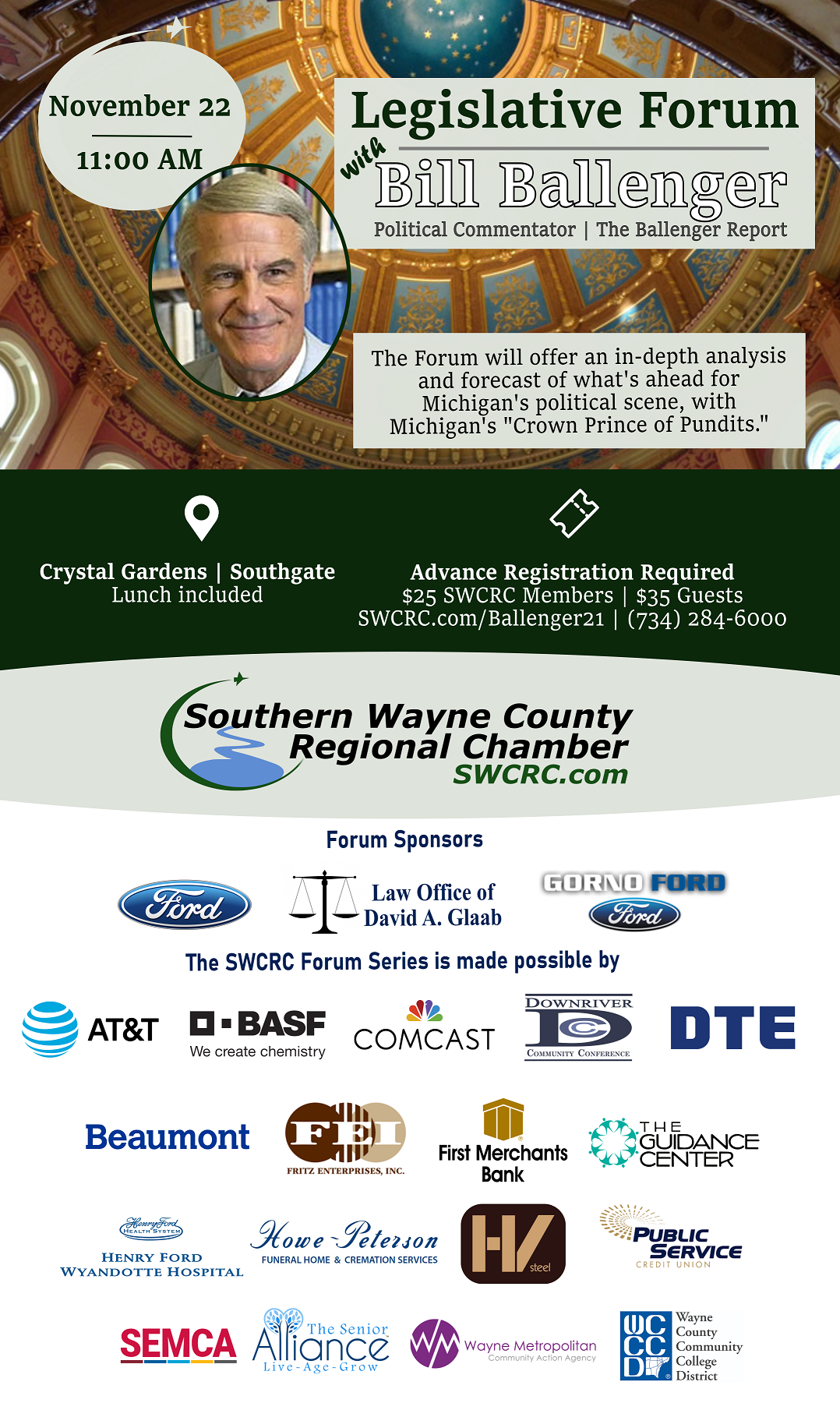 The Forum will feature a discussion with Bill Ballenger of The Ballenger Report, providing forecasts of national, state, and local political races, including judicial contests. The Forum will offer an in-depth analysis and forecast of what's ahead for Michigan's political scene from Michigan's "Crown Prince of Pundits."  Ballenger is a frequent commentator on Michigan politics and government for a broad array of newspapers and radio and television stations nationally and internationally, including The New York Times, The Wall Street Journal, The Washington Post, Roll Call, USA TODAY, HOTLINE, the Associated Press, CNN, National Public Radio, PBS's "The News Hour," the BBC, and Michigan Public Television's "Off the Record."
Learn More About Bill Ballenger
—
SWCRC In-person Event Health and Safety Protocols:
On June 17, 2021, the Michigan Department of Health and Human Services (MDHHS) issued a Rescission Order of the Public Health Epidemic Emergency Order to take effect on June 22, 2021, under the authority granted to the Department by the MI Public Health Act. The Order can be reviewed HERE
The SWCRC is committed to ensuring a safe and enjoyable gathering according to recent State orders and CDC guidance. While attending this event, please practice social distancing and respect the comfort level of other attendees.
Advanced registration is required. In-person attendees are required to complete a health screening form (click this link) (completed on the event day either online or in-person at check-in). Please abide by CDC and State guidelines. All SWCRC events are subject to change based on federal, state and local guidelines.
The Legislative and Business Forum is an exciting series that features our elected and business leaders in the Southeastern Michigan region. Gain valuable insight from legendary entrepreneurs and successful community pillars to help your business thrive!
Interested in sponsoring the Forum Series, an individual Forum event or a high school table (during school months)? Contact Forum Coordinator Mary Jarosz: maryjarosz@sbcglobal.net. Individual Forum event sponsorships can be purchased using the below form.
Advanced registration required. Monday, November 22, 2021 
Location – Crystal Gardens | Southgate
11:00 AM – Sponsor reception
11:30 AM – Program and luncheon
$25 per person, including lunch
$35 Non-Member admission
$250.00 Table of 10
$175 – Sponsor a table of high school students to attend!
Forum Sponsors