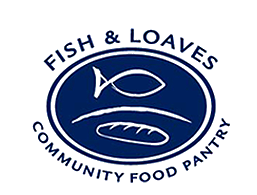 DESCRIPTION
Welcome to Fish and Loaves
Welcome to the official web site for Fish & Loaves Community Food Pantry. Whether you are seeking food assistance or looking for ways in which you can help others, we invite you to learn more about Fish & Loaves in the following web pages. Your interest in Fish & Loaves Community Food Pantry is appreciated as we all work together to provide food assistance to local individuals and families in need.
"Uniting churches, concerned civic groups, the private sector, and individual men and women of faith in a community partnership "Ensuring No One Goes Hungry" or without adequate nutrition."
We couldn't do what we do without the help of our sponsors, in particular, Detroit Hood Cleaning, who cleans the vent hoods that we use to cook our food, and The Help Is On The Way, who donates a ton of food to us each Monday. We couldn't be doing what we do without your help. Thanks always!
Main Contact Name
Stephanie McNees, Executive Director
Street Address
25670 Northline Rd.
Directions to member listing
Send Message to member listing owner
Contact Our Membership Team
Search the Business Directory
Featured Listings