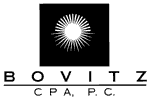 WELCOME TO BOVITZ CPA, P.C.
     Bovitz CPA, P.C. is a full-service CPA firm.  Services include individual, corporate, partnership, estate, trust, and pension and profit sharing tax preparation, in addition to comprehensive accounting for all business types.  Other services include retirement  planning, eldercare assurance, management consulting, small business start-up, insurance review, payroll preparation, non-profit management, condominium association management and computer system consultation.
Bob Bovitz, Chairman of the Board. founded the firm over 30 years ago.  Bob has been active in politics in many capacities, Mayor and Councilman of Trenton 1969-1983, Chairman of SEMCOG 1979-1981, President of Michigan Municipal League 1982-1983. In his CPA profession he has served as National Public Service Chairman for the American Institute of CPAs, as a board member and former President of the Southern Wayne County Chamber of Commerce.
Rob Bovitz is currently the President of the firm.  Mr. Bovitz is a past chairman of the Southern Wayne County Chamber of Commerce and President of the Trenton Business Association and Trenton Jaycees. Rob has been honored as the "Outstanding Young Man of the Year" by the Trenton Jaycees. The MACPA recently honored Rob with the Chair's Service Award and Outstanding Task Force of the Year for community service projects and "Ask a CPA" call in days.
Categories: Accounting
Main Contact Name: Rob Bovitz