Supplemental Staffing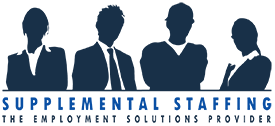 Our Vision
To be your employment solution provider, from generation to generation.
Our Mission Statement
As entrepreneurs, we act with a sense of urgency to
create success for our stakeholders.
As a business partner, we are dedicated to customer satisfaction
by providing the right staff every time and on time.
As an employer, we pledge to create and
sustain a safe and innovative workplace through
continuous improvement and teamwork.
As a corporate citizen, we are committed
to being a responsible and caring member
of the communities in which we operate.
Categories: Employment Agencies/Services, Human Resources, Staffing Services
Main Contact Name: Cory McKenzie, Recruiter
Please login here to update your business.