Dot Com Web Productions, LLC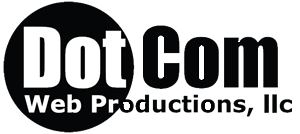 Dot Com Web Productions, LLC, is a full-service website development and consulting company in business since 2002.  Building nearly 1,000 websites, from DTE to local mom-and-pop companies, Dot Com has earned numerous awards for development and community involvement.  Services offered include ALL aspects of digital media such as web consulting, web development, mobile websites, search engine optimization (SEO), social media, Virtual Tours, programming, marketing, graphic, web-hosting needs and more.
Categories: Community Services, Computers, Consulting Services, Graphic Design, Marketing Services, Photography, Video Production, Web Design
Main Office
3133 Van Horn Rd.
Trenton, MI 48183
Main Contact Name: Linda Francetich
Please login here to update your business.