Busen's Appliance Inc.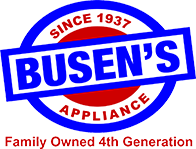 Family owned business since 1947. Specializing in new appliances. Sales parts and service
About Us
About Busen's Appliance
Our mission is to treat our customers the same way we'd want to be treated. At Busen's Appliance, Inc., we pride ourselves on providing personalized service to our customers. Our staff will gladly answer any of your questions or address any concerns that you may have about our products or services. Our knowledgeable in-store professionals are here to help you every step of the way, whether you need to replace an old appliance, or if you're remodeling and need an entire kitchen full of new brand name products. We will work with you to find a product that fits your needs, budget and lifestyle. Our delivery and installation specialists will assure that your new appliance arrives safely and is installed correctly.
Take your time to look around. If you have any questions, feel free to contact us at 313-381-1492.
Categories: Appliances
Main Contact Name: Mike Busen
Please login here to update your business.