2019 Election Day Message from SWCRC President & CEO Ron Hinrichs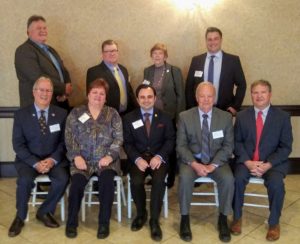 November 5, 2019.
Today is one of the most important days of the year, Election Day 2019. I want to take a moment to once again thank the mayoral candidates throughout our region who took the time to meet with our local job providers and entrepreneurs at the Southern Wayne County Regional Chamber's Mayoral Candidates Forum earlier this month. Their interest and desire to serve our business community, and to take the time to meet with our members means the world to me, and demonstrates outstanding leadership. This is what I expect from our region's leaders, and their support, dedication and leadership is among the finest.
It is critical that our business community remains involved and engaged with local decision making, and continues to drive solid pro-business policy. I often say that the southern Wayne County and Downriver region has some of the greatest and most committed elected leadership. We must continue to elect leaders who will never sway from maintaining our community's legacy of working together in a positive and productive manner. We must elect leaders who are motivated by a desire to have a positive, lasting impact on our region, and who are passionate about working together as a strong, engaged, and unified region.
The SWCRC's mission is "to promote business, enhance economic development and serve as a catalyst for improving the overall quality of life in the region." It is our vision "to be the unifying body for the Downriver business community, bringing people and organizations together to have a positive, lasting impact on our region."
With these guiding principles in mind, I strongly urge our membership of Downriver's entrepreneurs, difference-makers, and providers of opportunity to elect leaders who will stand with us and lead us toward further economic development and growth in a positive way. We will not support negative political rhetoric or intimidation, but will always stand with leaders who will work to unite our region to benefit all. I am grateful that the leaders of southern Wayne County are those who share these values of positive leadership.
Allen Park – A community with great promise and a bright future. I am looking forward to working with leaders and a mayor who are prepared to continue economic development and business growth in this City, and is ready to work with the community on projects such as the former Downtown movie theater and others, which will provide tremendous opportunity for growth and development.
Belleville- Leadership must continue to support the Belleville Area Chamber of Commerce and other pro-business groups in the Belleville area. Under Mike Kole's leadership, the BACC has added significant value for businesses and the entire community, and we hope to see continued support, involvement, and pro-business policy from City leadership.
Gibraltar – I am looking forward to continued growth in this great community such as the outstanding developments at Humbug Marina and what we have seen with the transformation of the former Gibraltar McLouth site with Hycal. Positive leadership in this community will continue to make Gibraltar a thriving City.
Flat Rock – Flat Rock continues to see tremendous growth, and like all of Downriver, is home to some of the most passionate and dedicated business leaders. We support policy and leadership that will continue to foster economic development and growth for this community in a positive and unified way.
Melvindale – As Mayor Stacy Bazman reaches her term limit, we are looking forward to continuing her legacy of positive leadership that will serve the community and provide policy that encourages economic growth. Thank you Stacy for your outstanding leadership and engagement with the SWCRC, and we are looking forward to working with the next Mayor and Council.
Riverview – Riverview has tremendous opportunity for growth in its future, and positive leadership will help this amazing community to overcome some of the challenges it faces in the future, but also to capitalize on the great opportunities. The Chamber is honored to enjoy a great relationship with Mayor Swift, and as an unopposed candidate, we are looking forward to working with the Mayor and other local leaders to continue to recruit businesses into this thriving City.
Rockwood- A gem in Wayne County, Rockwood's community will continue to grow and thrive with continued positive and effective leadership. We are looking forward to ongoing pro-business leadership in this community and development of a great partnership with the SWCRC.
Trenton – Trenton is undergoing phenomenal growth and tremendous economic development, and has only just begun! We need leadership that will continue to support the careful cleanup of the McLouth property in partnership with MSC and the EPA, and looks forward to the outstanding potential this property has for our entire region. Also, leadership that will work and provide policy to continue the significant business growth we have seen in the community along West Rd. and W. Jefferson in the Downtown area. The Riverside hospital property and the upcoming closing of the DTE Trenton Channel power plant will be key moving forward, and continued positive and effective leadership will provide for real opportunity at these sites. I am impressed and encouraged with the planning and investment from DTE, in partnership with intelligent and effective leadership at the city to help make this property beneficial to the future of our community.
Downriver and southern Wayne County business community – now is your time to make a difference. Vote. Elect leadership that supports local business and provides for an atmosphere that generates economic development and opportunity.
The SWCRC is looking forward to working with our elected leaders toward accomplishing our shared vision to have a positive, lasting impact on our region. Together, we are making it happen. #ItsHappeningDownriver
Ronald J. Hinrichs
President & CEO
Southern Wayne County Regional Chamber