The Southern Wayne County Regional Chamber is proud to host a dynamic, and premier leadership program, training and developing our next generation of small business and community leaders in the Downriver region! Welcome class of 2018!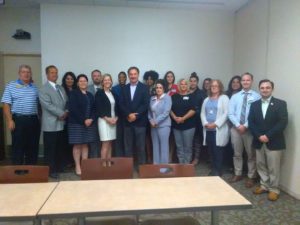 Class informational pamphlet here
Click here to download the 2018-2019 Participant Application! Applications are due on Thursday, August 23 @ 5:00 PM.
Questions? Call Rich at 734-284-6000 x 25 today!
Thank you to our Leadership Sponsor

Thank you to our Community Pillar Sponsors!
          
    
Mission:
To provide an intensive, dynamic leadership program that challenges, educates, and develops a diverse, select group of emerging small business, and organizational leaders in Southern Wayne County.
Purpose:
To prepare participants to lead with a vision, to affect a positive change in the community on a long-term basis, to interpret complex social and economic issues, and to establish a network of community leaders.
Benefits to Participants:
Increased awareness of important issues facing your community
Ideas for shaping the future of your community
Complimentary Admission to Chamber networking events
Benefits to Organizations:
Improved leadership skills
Improved ability to interact with other employees (teamwork)
Improved self-confidence resulting in more willingness to assume responsibility
Positively represent organization in the community
Issues to be Explored:
Private sector
Non-profit sector
Leadership
Economic Development Community Education
Government
Candidates:
A small group of individuals annually will participate in the program. They will represent a cross section of the community, including, but not limited to, business, government, education, civic groups, health service, and community organizations.
Selection Criteria:
Potential participants must demonstrate the following criteria:
Commitment and motivation to serve the Southern Wayne County area
Interest in seeking major volunteer and/or appointed leadership roles
Ability to set and attain personal goals resulting in achievement in his/her field
Experience and record of achievement in community activities which indicate potential leadership
Potential to shape policy and exert influence on critical issues facing the community
Availability of time to participate in Leadership 21 activities
Program:
A one-day orientation retreat is scheduled for October, 2018, followed by one session a month. A graduation banquet will be hosted in March, 2019.
Process:
Candidates are selected on their own merits from written applications submitted to the Leadership 21 Executive Committee.
Applications must be received by the committee by August 23, 2018
Applicants will be notified of acceptance by September, 2018
Those not selected for this year's program are encouraged to apply again next year.
Requirements:
Participants must have the full commitment of their respective corporations or organizations. Attendance is expected at all sessions.
2018-2019 Meeting Dates (Subject to Change):
October, 2018 – Orientation
November, 2018 – Non-Profit Sector
January, 2019 – Private Sector
February, 2019 – Community Relations / Government
March, 2019 – Graduation
Tuition: $250 per person.
Hosted by:
Southern Wayne County Regional Chamber of Commerce. For more information call 734.284.6000, ext. 25 or email Rich@swcrc.com
Search the Business Directory
Search
Upcoming Events
April 25 @ 8:00 am
-
9:00 am