Whether it's trail town, linked greenways, island living or Michigan's statewide Iron Belle Trail, what makes us a distinct, appealing destination are the natural attractions that can only be found Downriver.
WHAT IS DOWNRIVER?
Welcome to Downriver! The area is made up of 18 unique and individual communities, framed by four major Michigan waterways: River Rouge, Huron River, Detroit River, and the northern end of Lake Erie.
The Detroit area communities known as Downriver were once viewed as an industrial and manufacturing hub in southeast Michigan. Through much hard work over the past several years, the area has evolved into a place that mixes history, culture, and natural wonders. Brownfields have been reclaimed and converted into natural areas, walkways, biking and hiking trails connect the individual communities, marinas make waterways accessible and desirable while each city's distinct personality shines.
Destination Downriver is a unique experience and resounding evidence of what's possible when communities, individuals and businesses work together to transform the ecological, environmental and economic makeup of an entire region. It's ready to be explored and appreciated for the surprising and exceptional place it has become.
REGIONAL INFORMATION
Michigan's Big Show with Michael Patrick Shiels Highlights Destination Downriver Campaign with Live Remote Broadcast from Riverview Highlands Golf Course in Riverview! The show included many great interviews with local leaders like Riverview Mayor Andrew Swift, Lincoln Park Mayor Tom Karnes, DCC Director Jim Perry, the International Wildlife Refuge, and many others!
PARTNERING ORGANIZATIONS
Destination Downriver is a coalition of like-minded organizations and individuals that are pulling together opportunities and resources to market and brand Downriver by telling the world what is special about our region.
Support Local Biz!
The Downriver and southern Wayne County region is home to brilliant entrepreneurs, and credible businesses which provide outstanding services to those who live, work and play in our region. Support your local Downriver businesses!
Discover Downriver
DiscoverDownriver.com is a website committed to the Downriver community. For the latest events, area jobs, restaurants or businesses, or deals, look no further than one click!
Downriver Current
A publication of the Trenton Trib and Island Beacon newspapers that highlights dining and entertainment opportunities in the metro Detroit communities along the southern Detroit River and northern Lake Erie.
DOWNRIVER COMMUNITIES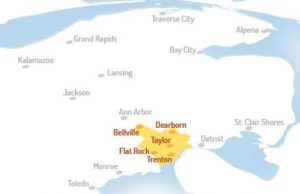 Destination Downriver: Give it a GO!